Home Inspections St. Paul | Pool Inspection (651) 368-8209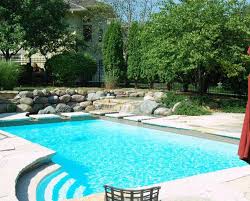 If you're going to be spending the big bucks on a home purchase, you want to make sure you don't end up with a property that's just going to cause you problems long after you move in. That's why it's always recommended that buyers include a home inspection contingency in their contracts, as this will provide buyers with the opportunity to fully scope out the home and check for any issues.
But what if the home you're planning to buy has a pool? Given the prevalence of residential pools these days the chances of finding a home with a pool are pretty high. Should you have this component inspected too?
So, what's involved in swimming pool inspections?
Condition of the Pool Structure and Surrounding Hardscape
It might be easy to spot obvious wear and tear with pools and the surrounding deck materials, but others might not be as noticeable. Signs of deterioration of materials can be spotted with the help of an experienced inspector.
Among the physical features of the pool and surrounding area include the following:
Interior finish of the pool – The quality of the material will be looked at, as well as signs of cracks, aging, and potential underlying structural problems that will need to be addressed.
Coping – Most pools have coping around the perimeter of the pool's edge. They're pretty much a decorative component that can be made out of all sorts of different materials and should be stable without any chipping or loose stones that could pose a hazard. Any cracks, stains, or issues with the grout will also be looked at.
Deck – If there is a deck surrounding the pool, that will also be inspected for issues with the materials, pitch, drainage, uneven surfaces, and gaps between stones.
Pool Equipment
The equipment installed plays a critical role in how well your pool functions and the health and safety of the pool water. More specifically, the equipment that will need to be inspected includes the following:
Pump – The pump helps ensure the water is properly filtered and circulated and is responsible for moving the water through the filter to be adequately cleaned and sanitized. It's also responsible for operating pool cleaners, waterfalls, and other relevant pool features.
Filter – The filter is responsible for keeping the water free of debris. It will be inspected to make sure it works properly and that there are are no flaws associated with it.
Heater – Some owners have pool heaters, some don't. If a heater is present, an inspector will look to see if it is properly grounded and is actually able to heat the pool to the temperature set. If the heater is gas-operated, the inspector will make sure that the size is right for the water volume of the pool.
Electrical Wiring, Plumbing, and Surrounding Structures
Pool inspectors will also look at electric panels for appropriate breaker labeling, as well as plumbing lines for any signs of leaks.
Pool inspectors might look at other factors as well, such as ensuring that the home's gutters point away from the home and not towards the pool. They might also look at whether or not any surrounding trees drop too many leaves into the water that will require constant cleaning.
Miscellaneous Features
Any other accessories or features that a pool might have may be inspected during the appointment. These days, pools come with all sorts of different features that can fully customize the pool. Features that may be inspected can include:
Automatic pool covers

Attached hot tubs

Diving boards

Infinity edges

Tanning ledges

Lighting

Automatic controls

Sanitizing systems
Swimming pools can be a great feature to have in your own backyard, but if you're planning to buy a home with a pool, you might want to have it inspected along with the rest of the house. After all, these components are extremely expensive to install and operate, and a pool with issues could end up costing you quite a bit of money to repair defects and replace equipment. Having the pool inspected can help you understand what will need to be done – if anything – to bring the pool back up to par if any issues are detected.
All of our inspections will include a detailed report along with pictures of their findings and will be available to the customer in 24 hours of the inspection.
Home Inspections St. Paul | Home Inspector (651) 368-8209